TORONTO - CALGARY- VANCOUVER
ACROSS CANADA AND USA CALL TOLL FREE: 1-877-877-0873,

Scrapbook manufacturers like 3M have provided a full line of adhesive products for the scrapbooking markets. These adhesive products offer numerous ways one can use to hold our scrapbooks together.
SCRAPBOOKING TAPES & VELLUM TAPES| PHOTO CORNERS | MOUNTING SQUARES| GLUE DOTS | POP-UP FOAM SQUARES

Pop-Up Foam Squares
Pop-Up Foam Squares are a lot of fun and add an easy (non-bulky) 3-dimension effect to your page. You can put them under cardstock letters, a punchie, or a photo and it will look as though it is literally jumping out of the page.
008C
3M Pop-Up Foam Squares (Foam Layering tape) 3/4" x 3/4" x 1/8"- acid free white foam tape great for three dimensional layered effect. Great for rubber stamping projects, card making and lumpy scrapbooking. Flattens out when scrapbook is closed, pops back up when opened. See video

Scrapbooking

Tapes

&

Vellum Tape
3M Scotch Vellum tape is one of the best vellum tapes on the market and works well on dark or solid colored vellums and patterned peices. Use the smallest peice of tape that will adhere the vellum properly for best results. First adhere tape to the card stock and then the vellum. Try to avoid getting your fingerprints or stray hair on the tape when handling it.
001C
Scrapbooking tape (Photo & Document Mending Tape) 3/4" x 400in.- Acid-free tape, perfect for mending and repairing pictures, documents. Safe for front and back of photos. Designed specifically for memory books. See video
002C
Scrapbooking tape Double-sided (Double Sided Photo Mounting Tape) 1/2"x 300in. - Acid Free, double-sided mounting tape. Perfect for mounting pictures, documents, memorabilia. Will not damage photos for lifetime of adhesive. Designed specifically for memory books. See video.
2002C
Scrapbooking tape double sided & removable (Double sided & Removable Photo Document tape) 1/2" x 300in.- Acid-free tape, perfect for mending and repairing pictures, documents. Safe for front and back of photos. Designed specifically for memory books
005C
Scotch Vellum Tape 1/2" x 400in. - Acid Free Vellum Tape is specially formulated to disappear on most vellums. Great for making invitations, envelopes, mattes, memory book pages, titles, and journal entries. Excellent for most solid colored and patterned vellums. See video

Photo Corners
Photo corners are your traditional way of putting photos into an album. They offer a touch of nostalgia and are quite cute. One major benefit is that you can remove and replace the photo at any time without damaging it. Use them for highlighting, as an alternative to matting.

Photo corners comes in clear, black and gold. There is also a jumbo size that is available in clear.

006C
Scotch Clear Photo Corners 250/pk- Easy to use and self stick. Photo safe and acid free. Perfect when you do not want to permanently mount an item on the page. See video

N/A

006

B

C
Scotch Black Photo Corners 250/pk- Black version of 006

N/A

006GC
Scotch Gold Photo Corner 250/pk- Gold version of 006

N/A

022JC
Scotch Clear Jumbo Photo Corners 2.9in x 2.9in triangles 20 corners/pk -securely holds bulky items, larger papers. Easily remove items when needed. Prevent larger paper from popping out when turning pages.

N/A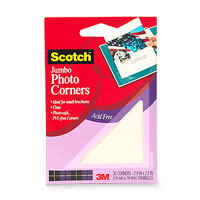 Mounting Squares

Mounting squares are relatively inexpensive and perfect for sticking flat elements (strips of cardstock, thick ribbon, etc..) The square are pre-cut into small peices that are quick to mount to photos and paper. Peel off the backing to stick. For heavy scrapbook users, consider purchasing the 3M ATG 714 Applicator and 1/4" ATG Tape. It can help reduce the fatigue that comes from peeling of the liner.
009C
Scotch Photo Mounting Square 0.47in x 0.51in 500 Squares-Double sitck- easy to use- apply to one side of photo and remove backing and press into place. Photo safe & Acid Free. See video

714

Scotch

ATG 714 Applicator,

ideal for detail oriented applications. Great for

applying fillets, layering multi-opening mattes and working with small wooden frames

etc. ATG 1/4" acid free tape sold seperately.

908

Scotch

ATG Gold 908 1/4" x 36yds Acid Free tape,

used with ATG 714 gun.

Photo safe & Acid Free.

Glue Dots & Other Double Sided Acid Free Tape Products
Glue dots are useful for adhering small items like tiny bows, metal charms, buttons, ribbon, wiggle eyes, etc. You can also stretch them out or roll them up and use them on thinner fibres, although this is a bit trickier.
0

19

C
Scotch Glue with 2-Way Applicator, 1.6 Oz. Clear-

specially designed applicator features both a sponge tip and a precision tip. Use the sponge tip when you need to cover a large area and the precision tip for greater accuracy. Permanent adhesive. Great for home and office applications.

007C
Double sided tape pen -acid free, neater than glue. Easy to use and safe for all photos. Initially removable. Great for memory books, rubber stamping, school projects and other crafts.
014C
Double-stick Clear dot

s /Glue Dots

1/2" diameter 35 dots/pk- easy to use press-on adhesives, repositionable. Ideal for mounting ribbons, metals, plastics and more.
024PC
Tie Downs with Adhesive dots 1/2" diameter, 20 dots/pk- Enable you to easily add decorative elments to paper craft projects. Prevents wire, string, yarn, or ribbon from slipping off your project. Paintable, writable, Photo safe and PVC free
For pricing please call us or email us at sales@nhsmedia.com. We are your source for all your scrapbooking supplies. If you need 3M ATG Guns and refill or Xyron, please visit our Art Products Section. Also take a look at all these scrapbooking ideas

ACROSS CANADA CALL TOLL FREE: 1-877-877-0873,


USA CUSTOMERS CALL: 1-905-513-3994
TORONTO - CALGARY - VANCOUVER
E-MAIL: sales@nhsmedia.com,