3M DUAL LOCK RECLOSEABLE FASTENERS
| | |
| --- | --- |
| | TORONTO - CALGARY- VANCOUVER |

ACROSS CANADA AND USA CALL TOLL FREE: 1-877-877-0873,

We are a your source for 3M Dual Lock Recloseable fasteners serving the Canadian market for the last 15 years. We offer a complete line of 3M adhesive and fastener products to serve your needs. For excellent pricing, dependable service, and expert staff, depend on us for your 3M adhesive and fastener solutions.


3M SCOTCH DUAL-LOCK FASTENERS - SHORT ROLL
3M Dual Lock is also available in sample bags for various small projects.

3M SCOTCH DUAL-LOCK RECLOSEABLE FASTENERS -

SHORT ROLL

PART NUMBER
DESCRIPTION
SIZE
ORDER ONLINE

SJ

3550

CF

-1X10BLK

3M Dual Lock Recloseable Fastener (250/250) - Black - 1"x10ft - For indoor and outdoor use. High temperature performance, temperature resistance to 200 degrees F. For use with metals, glass, medium to high surface energy plastics, and paints

1" x 10 feet

SJ

356

0

-1x10-CLR

3M Dual Lock Recloseable Fastener (250/250) - Clear - 1"x10ft - For indoor and outdoor use. Highest temperature performance, temperature resistance to 220 degrees F. For use with metals (aluminum, stainless steel), glass, and high surface energy plastics (acrylic, polycarbonate, ABS).

1" x 10 feet

3M SCOTCH DUAL-LOCK FASTENERS - 50 YARD ROLLS
3M SCOTCH DUAL-LOCK RECLOSEABLE FASTENERS
PART NUMBER
DESCRIPTION
SIZE
ORDER ONLINE
SJ4570-5/8X50-CLR
3M Dual Lock Low Profile Recloseable Fasteners -Clear - 5/8" x 50yds is backed with 300 LSE Laminating adhesive giving it an excellent bond to many substrates including polypropylene, polyethylene, metal, finished wood and many others.
5/8" x 50yds
SJ35

4

0-

3/4

X50-BLK
3M Dual Lock Recloseable Fastener

(250)

- Black -

3/4

" x 50yds.

For indoor and outdoor use. Low temperature performance, temperature resistance to 120 degrees F. For use with many plastics, powder coated paints, and other low surface energy materials. Special price !!!

3/4" x 50yds
SJ35

4

0-2X50-BLK
3M Dual Lock Recloseable Fastener

(250)

- Black -

2

" x 50yds.

For indoor and outdoor use. Low temperature performance, temperature resistance to 120 degrees F. For use with many plastics, powder coated paints, and other low surface energy materials.

2" x 50yds
SJ3550

CF

-1/2X50-BLK
3M Dual Lock Recloseable Fastener

(250)

- Black - 1/2" x 50yds.

For indoor and outdoor use. High temperature performance, temperature resistance to 200 degrees F. For use with metals, glass, medium to high surface energy plastics, and paints

1/2" x 50yds
SJ3550CF-1X50-BLK

3M Dual Lock Recloseable Fastener (250) - Black - 1" x 50yds. General purpose, black polypropylene recloseable fastner with an acrylic adhesive backing. 250 stems per square inch. 0.23 engaged thcikness. Closure life 1,000.

1" x 50yds
SJ35

4

1-1X50-BLK
3M Dual Lock Recloseable Fastener

(400)

- Black - 1" x 50yds. General purpose, black polypropylene recloseable fastner with an acrylic adhesive backing. 400 stems per square inch. 0.23 engaged thcikness. Closure life 1,000.
1" x 50yds
SJ355

1

-1X50-BLK
3M Dual Lock Recloseable Fastener

(400)

- Black - 1" x 50yds.

For indoor and outdoor use. High temperature performance, temperature resistance to 200 degrees F. For use with metals, glass, medium to high surface energy plastics, and paints

1" x 50yds
SJ3552-1X50-BLK
3M Dual Lock Recloseable Fastener

(170)

- Black - 1" x 50yds.

For indoor and outdoor use. High temperature performance, temperature resistance to 200 degrees F. For use with metals, glass, medium to high surface energy plastics, and paints

1" x 50yds
SJ3560-1/2X50-CLR
3M Dual Lock Recloseable Fastener - Clear - 1/2" x 50yds. Clear, polypropylene recloseable fastener with acrylic based PSA with 250 stems per square inch with clear VHB Tape and clear polyethylene film liner. 230mil Engaged Thickness
1/2" x 50yds
SJ3560-1X50-CLR

3M Dual Lock Recloseable Fastener - Clear - 1/2" x 50yds. Clear. For indoor and outdoor use. High temperature performance, temperature resistance to 220 degrees F. For use with metals (aluminum, stainless steel), glass, high surface energy plastics (acrylics, polycarbonate, ABS)

1" x 50yds

3M SCOTCH DUAL-LOCK FASTENERS - MINI PACKS
3M SCOTCH DUAL-LOCK RECLOSEABLE FASTENERS -MINI PACKS
Convenient size for small jobs and low-volume applications!
PART NUMBER
DESCRIPTION
SIZE
ORDER ONLINE
MP3541/42

3M Dual Lock Recloseable Fastener (400/170) - Black - 1"x 5yds (15 feet), 2 rolls/pk - For indoor use. Low temperature performance, temperature resistance to 120 degrees F. For use with many plastics, powder coated paints and low surface energy materials.

1" x 5 yds
MP3551/TB3552

3M Dual Lock Recloseable Fastener (400/170) - Black - 1"x 5yds (15 feet), 2 rolls/pk - For indoor and outdoor use. High temperature performance, temperature resistance to 200 degrees F. For use with metals, glass, medium to high surface energy plastics, and paints.

1" x 5 yds
MP3560

3M Dual Lock Recloseable Fastener (250) - Clear- 1"x 5yds (15 feet), 2 rolls/pk - For indoor and outdoor use. High temperature performance, temperature resistance to 220 degrees F. For use with metals (aluminum, stainless steel), glass, high surface energy plastics

(acrylics, polycarbonate, ABS)
1" x 5 yds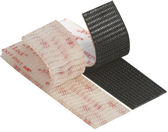 3M SCOTCHMATE RECLOSEABLE FASTENERS
PART NUMBER
DESCRIPTION
SIZE
ORDER ONLINE
SJ3526N-5/8X50-WHT
3M Scotchmate Recloseable Fastener Hook -White - SJ3526N - 5/8" x 50yds. High performance PSA nylon hook with rubber adhesive and white polypropylene film liner. 100 mil to 160 mil engaged thickness, 3 mil printed liner, white.
5/8" x 50yds
SJ3527N-5/8X50-WHT
3M Scotchmate Recloseable Fastener Loop -White - SJ3527N - 5/8" x 50yds. High performance PSA nylon loop with rubber adhesive and white polypropylene film liner. 100 mil to 160 mil engaged thickness, 3 mil printed liner, white.
5/8" x 50yds
SJ3526N-1X50-WHT
3M Scotchmate Recloseable Fastener Hook -White - SJ3526 - 1" x 50yds. High performance PSA nylon hook with rubber adhesive and white polypropylene film liner. 100 mil to 160 mil engaged thickness, 3 mil printed liner, white.
1" x 50yds
SJ3526N-1X50-BLK

3M Scotchmate Recloseable Fastener Hook - Black - SJ3526 - 1" x 50yds. High performance PSA nylon hook with rubber adhesive and white polypropylene film liner. 100 mil to 160 mil engaged thickness, 3 mil printed liner, white.

1" x 50yds
3M SCOTCHMATE RECLOSEABLE FASTENERS MINI PACKS
Convenient size for small jobs and low-volume applications!
PART NUMBER
DESCRIPTION
SIZE
ORDER ONLINE
MP3401/02-1x5-WHT
3M Scotchmate Recloseable Fastener Hook and Loop -White - MP3401/02 - 1" x 5yds. Non adhesive, temperature resistant to 250 degrees F. Use as canvas awning attachment and luggage closure. 100mil to 150mil engaged thickness
1

" x 5yds

MP3526/27-1X5-BLK
3M Scotchmate Recloseable Fastener Hook and Loop -Black - MP3526/27 - 1" x 5yds. Attach accessories and graphics to equipment and displays. Super sticky adhesive back.
1" x 5yds
MP3526/27-1X5-WHT
3M Scotchmate Recloseable Fastener Hook and Loop -White - MP3526/27 - 1" x 5yds. Attach accessories and graphics to equipment and displays. Super sticky adhesive back.
1" x 5yds
3M SCOTCHMATE FLAME RETARDANT FASTENERS
Attach removable seat cushions in the aerospace industry
PART NUMBER
DESCRIPTION
SIZE
ORDER ONLINE
SJ3518FR/19FR-1x50-BLK
3M Scotchmate Flame Retardant Fastener Hook and Loop -Black - SJ3518FR/19FR - 1" x 50yds. Specially coated with a unique flame resistant synthetic rubber based adhesive
1

" x 50yds

TORONTO - CALGARY- VANCOUVER
ACROSS CANADA CALL TOLL FREE: 1-877-877-0873,